Swinoujscie on-line
Beach on-line | More on-line webcams | Panorama of the beach | Kamera on-line 360º


On the Polish side of Usedom Island (Polish: Uznam) is Swinoujscie (German: Swinemunde), a county and an important port established in 1740 by Emperor Frederick the Great. Swinoujscie is also called Land of 44 Islands because Swinoujscie County is an archipelago comprised of 44 islands. It's also one of the most important counties in the Szczecin (Stettin) metropolitan region and the West Pomeranian Voivodeship. Swinoujscie is the most densely populated part of the island of Usedom (Polish: Uznam).

"The town was first chronicled in 1181, though it existed earlier as a fishing settlement" - Enc. Britannica. The name of the town may be a difficult one for many foreigners to pronounce. Hence, it's often refered to by its former Pomeranian name "Swinemunde", which was derived from the Slavic name of the Swina River. So, both Swinoujcie or Swinemunde would translate into English as SwineMouth or HogsMouth as in for example Portsmouth or Plymouth.

Archaeological evidence from the island, which can be found in a museum in Swinoujscie shows that the island had been inhabited by man since Stone Age, at least for 5000 years. Swinoujscie has one of the oldest known ferry crossings. It was first mentioned in writing in 1230 AD, making it the oldest documented ferry crossings in the world that's still in use.

Swinoujscie was also an important military port during the two world wars. It was a location of Prussian harbor commander. and German harbor commander (Hafenkommandant) until the end of WWII. The town was bombed once on March 12, 1945 by USAF largely due to a Russian or British intelligence mistake. On October 6, 1945 the town was placed under Polish control through President Franklin D. Roosevelt's last minute initiative. After the fall of the Iron Curtain, the governments of Germany and Poland affirmed the former agreement in 1990.

Monument on the German-Polish boarder. A boardwalk to the beach in the background. 
See it @ Google Street View 


Swinoujscie was a popular resort among many international aristocrats and bourgeoisie; esp. during the industrial era. Emperor Wilhelm II visited Swinoujscie very often. He also met with his cousin, the Tzar of Russia Nicholas II there. Swinoujscie is also where Emperor Wilhelm I had a love affair, and where his first illegitimate son was born [read more]. Swinoujscie was where many artists such as Marlene Dietrich, Mata Hari, Lyonel Feininger, Wojciech Kossak spent their summer vacations. It was where one could meet top Central European leaders and celebrities of the early 19th and 20th century in an informal way, and also where many business deals were made.

Lyonel Feininger (1871-1956), a leading New York expressionist painter spent summer vacations on Usedom Island from 1909 until 1921 when he was studying art in Berlin. He was greatly inspired by the island and created many painting and drawings there and continued painting scenes from the island for the rest of his life, after returning to the United States. A fifty kilometers long Lyonel Feininger bike tour was created on the island with signs on posts and round markers on the ground to locations that were immortalized in the artist's works. Many of those can also found in Swinoujscie.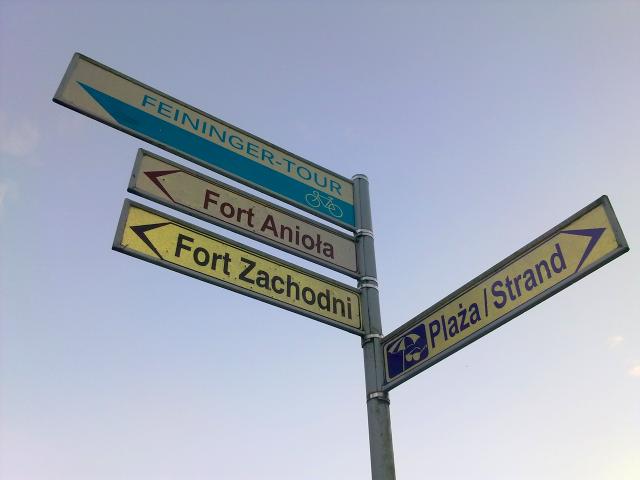 Swinoujscie's pre-war nickname "Bathtub of Berlin" (Berlin aka Sin City) says alot about the town in those old days. Since 1824 when underground sources of high quality brine and mud were discovered in Swinemunde and used in the local spas, the town became a leading 19th century world class seaside resort. It was especially popular throughout the Roaring Twenties until end of WWII. After the war, the town continued to be a popular resort but behind the Iron Curtain.

Swinoujscie is also associated with Teodor Fontane; an important 19th-century liberal German writer. Fontane spent part of his childhood in Swinemunde after his family fell into some disrepair due to his Father's gambling depths. Today, there is a small makeshift museum in the town's center dedicated to Fontane on the site where Fontane's family home and pharmacy once stood.

Swinoujscie is also where Baroness Elsa von Freytag-Loringhoven was born. For those who may not know the Baroness, she was an important American Dadaist artist and poet that worked and lived in New York's historic Greenwich Village. The Baroness held art exhibits in many fine galleries and high places including The White House. In a way, perhaps she embodies well the town's former free and bohemian type spirit that drew many artists and forward thinkin people to its shores until the mid 1940s.

Baltic Park Molo and Radisson Blu Swinoujscie



Galeria Promenada on the seaside promenade 
Swinoujscie has two promenades. The first is on the Baltic Sea coast and the second is on the Swina River. Compared to neighboring German towns on the other side of the island, Swinoujscie has a more urban character and is becoming the island's leading shopping and business center. There are many shopping malls, leading European supermarkets, international hotels, fast food chains such as McDonald's, a 3D Cinema by Corso and many other conveniences. Therefore, one can go shopping in Swinoujscie all year-round while enjoying the four seasons and the elements on the island's pristine sandy beaches and Eco zones.

Stop Shop shopping market 



CORSO Shopping Center & Cinema 



CORSO Shopping Center & Cinema 



Leading grocery supermarkets 
Swinoujscie is also a busy transit center for regular passenger connections with Ystad and Trelleborg in Sweden, Denmark, Germany and historic island of Wolin. It's also near the island of Rugen were the historic Cape Arkona is located. Plans are also underway to restore an old railroad connection through the Karnin Lift Bridge, which would shorten travel time between Berlin and the island to about two hours.

Swinoujscie has a perfect environment for cycling tourism, and has become a center for the best cycling routs in Europe that stretch along the Baltic Sea coast of Germany and Poland. Long distance routs go as far as Hamburg, Berlin, Sopot, Gdansk, Gdynia, Rugen Island and also Sweden and Denmark. Shorter routs are around Usedom island, Wolin Island, Szczecin (Stettin) Lagoon and through various popular resort towns, historic sites, a Viking village on Wolin Island, luscious wilderness and many other tourist attractions.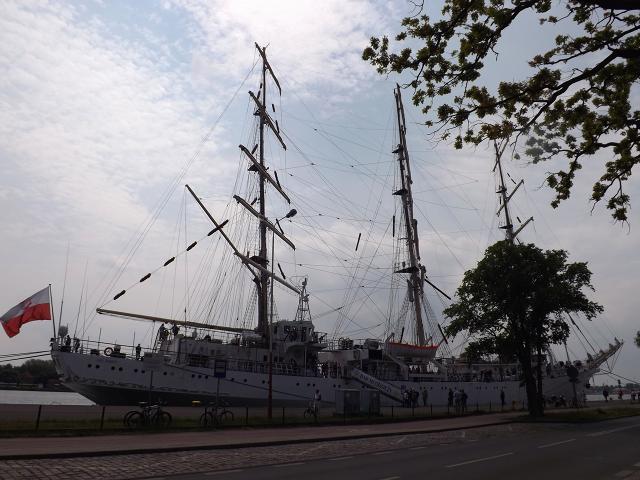 Swinoujscie is the fourth and most important imperial resort (Kaiserbader) on Usedom island. On the neighboring island of Wolin is Miedzyzdroje (German: Misdroy), which is another popular imperial resort located in Poland. It's very easy to commute between the two resorts by city bus that runs between Swinoujscie's Warszowa neighborhood on Wolin Island and Miedzyzdroje (Misdroy). The bus stop to Miedzyzdroje is just across the street from to the Polish train station, which is located across the street from the ferry crossing. There are also regular minibus services to Szczecin (Stettin) and the "Solidarity" Szczecin-Goleniow Airport. Seasonal air connections to the island are also available with some German, Polish and Swiss cities at the Heringsdorf Airport (info in Polish) located near Garz, Germany. So, we are hoping to see you here soon.